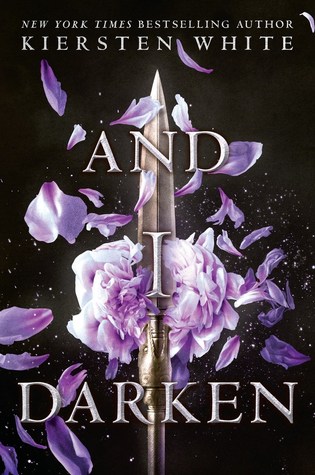 Rating: 1 star
"Her spine was steel. Her heart was armour. Her eyes were fire." 
Ever since Lada Dragwlya and her gentle younger brother, Radu, were wrenched from their homeland of Wallachia and abandoned by their father to be raised in the Ottoman courts, Lada has known that being ruthless is the key to survival. She and Radu are doomed to act as pawns in a vicious game. For the lineage that makes them special also makes them targets.
Lada despises the Ottomans and bides her time, planning her vengeance for the day when she can return to Wallachia and claim her birthright. Radu longs only for a place where he feels safe. And when they meet Mehmed, the defiant and lonely son of the sultan, Radu feels that he's made a true friend—and Lada wonders if she's finally found someone worthy of her passion.
But Mehmed is heir to the very empire that Lada has sworn to fight against—and that Radu now considers home. Together, Lada, Radu, and Mehmed form a toxic triangle that strains the bonds of love and loyalty to the breaking point.
---
The synopses on Goodreads provides a general idea of the story. But the above-mentioned synopsis is not, however, the plot of the story. In the entirety of the book, Radu and Lada obsessed over Mehmed and visited the Harem frequently beside attending extravagant parties.
I wouldn't have written a review of this atrocious book but people should know how trash this book is and maybe quit promoting it. People consider this book to be diverse but wait till I mention how inadequately Kiersten has represented certain characters and twisted the history to suit her plot.
She used the term 'the Muslim God' instead of 'Allah' and our call to prayer, Adhan, as 'a sweet song'.  It is lack of knowledge, sensitivity and research, and faulty on Kiersten's part. As a Muslim reader, I don't wish to be represented in a book just so a White author could market her book. White authors shouldn't write diverse characters if they cannot bother researching and stick to what they do best, write white and straight characters.
A mere mention of the Muslim God and Radu's conversion into Islam does not do justice to a decent representation of a religion. It's apparent how Lada hate Islam and the Ottomans. Radu keeps his conversion into Islam secret for fear of being murdered by Lada. However, Lada didn't seem to mind making out with Mehmed, son of the sultan maybe because he's hot. What a hypocrite!
You should definitely read Teavious's Review, she mentioned in depth how Kiersten White twisted the history of Romania to spice up her plot. Ladislav, as claimed by the author is a female equivalent for Vladislav, when in fact it's not. Ladislav is Czech variant of the Slavic name Vladislav, and masculine. And her nickname Lada is not a Romanian name. The word Lada in Romanian means a chest. It shows how ignorant the author is and the effort she put into research.
Why Lada or this book is considered feminist is beyond me? She is a rude and arrogant bitch who considers herself superior to other women. She despises women who are weak and who cannot fight with a sword. Still, Lada decided to train men alongside her instead of women. Portraying a character cruel who could hurt anyone who dares stands up to her does not make her bold and brave but insensitive. A character who refuses to accept herself as a woman is a real feminism. Lada's development as a character was nil throughout the book and she is devoid of any emotion except anger and jealousy. She is angry at women and jealous of men.
Radu is written as a stereotype, vulnerable and feminine gay character who is bullied by other kids. To think the author purposely wrote him weak to gain him compassion and pity is annoying.
I would've mistaken Radu and Lada for enemies, had it not been mentioned that they are siblings. Lada is hell-bent on killing Radu for reasons of her own and Radu considers it an act of love and protection.
The fault is not entirely of the author but publishers as well. We as readers should set high standards for which books we recommend and promote. I don't understand how could possibly every mediocre YA book become a New York Times Bestseller and likely to be judged less harshly if it's written by a White author. I won't lie and bias my judgement just because a book is diverse. To conclude, I loathed this book and won't continue with the series whatsoever.
"So the question becomes, Daughter of the Dragon, what will you sacrifice? What will you let be taken away so that you, too, can have power?" 
---
Let me know your thoughts in the comments below, whether you've read And I Darken.
Follow me on Goodreads.
---