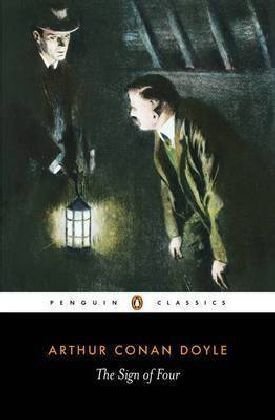 Rating: 3 stars
"You know my methods. Apply them." 
Mary Morstan presents a stimulating case before Sherlock Holmes. In December 1878, her father had telegraphed her upon his safe return from India and beseeched her to meet him at the Langham Hotel in London. Mary when arrived at the hotel, she was informed her father had gone out the previous night and not returned. Mary contacted her father's only friend, Major Sholto, who was in the same regiment and had since retired to England but he could not offer an insight into his disappearance.
Sholto and Morstan had been allies in the acquisition of a great treasure, but Sholto had then left the Indian subcontinent with all of the plunder. Morstan followed Sholto to England to demand his share of the treasure. Before Morstan died of a heart attack, he explained the origin and source of his wealth to his sons Thaddeus and Bartholomew.
Ten years ago, her father had gone missing and she started receiving a large pearl six years ago in the mail annually. Holmes and Watson agree to accompany Mary when she explains the contents of the letter instructing her to go to the Lyceum Theatre with the accompaniment of two friends. When the three journey to the Lyceum Theater, Thaddeus Sholto reveals that Mary's father died and that she is partial heir to a great hidden treasure.
As the mystery unravels, more dangerous crimes are perpetrated and it's up to Sherlock to solve them and find the missing treasure.
I think the story is too long-drawn and it felt more like a treasure hunt. I don't have much to say about this book, only that it was fast-paced, intriguing, action packed and well written. Sir Arthur Conan Doyle is one of the finest authors of all time.
"The emotional qualities are antagonistic to clear reasoning." 
Mary and Watson's romance was kept to a minimum and didn't cloud the story. In this book, we also had a close insight into Sherlock's character and his habits of using cocaine while his mind fails to cope with idleness and stagnation.
"My mind rebels at stagnation, give me problems, give me work!"
I enjoyed the first half of the story but as the second half began with tedious descriptions of motivations behind crimes, I failed to concentrate and skipped certain parts of a couple of chapters. I enjoy reading how and who committed the crime. I don't care, whatsoever, about why the crime was committed. The unravelling of mystery intrigues me as a reader and I feel including backstory of a criminal is only to lengthen the story so as and when the crime is solved and the criminal is exposed, it makes readers more surprised than they originally might have felt.
I recently found that Sherlock's character might be inspired by Dr Joseph Bell who could deduce a patient's illness from his close observation of symptoms showing in their external appearance. He once deduced that a man had been in the army. But when the man strongly denied, he was stripped down and found to have been branded as a deserter.
Some of you might disagree, but I find Sherlock's observation and deduction skills unrealistic, even for a fictional character. How could he possibly discern everything around him? How could he possibly make a deduction of someone's past? This is another reason why I fail to concentrate on his observations and deductions whether while reading or watching.
"How often have I said to you that when you have eliminated the impossible, whatever remains, however improbable, must be the truth?"
---
Let me know your thoughts in the comments below.
Follow me on Goodreads.
---