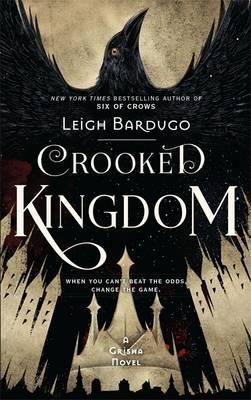 Rating: 5 stars
"Crows remember human faces. They remember the people who feed them, who are kind to them. And the people who wrong them too. They don't forget. They tell each other who to look after and who to watch out for."
The Dregs pulled off a heist so dangerous even they didn't think they'd survive. But instead of divvying up a fat reward, they're fighting for their lives. Double-crossed, the crew is low on resources, allies, and hope. As powerful forces from around the world descend on Ketterdam to root out the secrets of the dangerous drug known as Jurda Parem, old rivals and new enemies emerge to challenge Kaz's cunning and test the team's fragile loyalties. A war will be waged on the city's dark and twisting streets―a battle for revenge and redemption that will decide the fate of the Grisha world.
Crooked kingdom is the second book in the Six of Crows Duology by Leigh Bardugo. But of course you know that, don't you? It's been a while since I read it but I needed some time to process my thoughts and gather my emotions before writing a review. This book is a masterpiece and I don't have right words to write a review justifying its magnificence. Needless to say, I loved it and it quickly became one of my favourite series of all time.
Leigh Bardugo, without a speck of doubt, is a queen of characterization. The past of each character justifies their present, why they are the way they are. I read 'Crooked Kingdom' and 'Wonder Woman: Warbringer' simultaneously and similarities in the writing style and character development was vivid and evident. Her writing style is descriptive and doesn't over dramatize a scene. You don't know what you're in for unless you've finally read it. She could write a complete turn of events and it won't feel out of place. Crooked kingdom is a perfect mixture of intelligence, wit and humour.
Matthias shook his head in something between admiration and disbelief. "How many lives do you have, demjin?"
"One more, I hope."
Bardugo has written some of the most morally grey characters I ever have the pleasure to read about. I love characters where their only intention is to survive, by any means necessary. Where they don't consider how ethically or morally wrong they might be neither the consequences of their acts.
The character development and the romance is vivid but wasn't overwhelming. Kaz Brekker deserves all the happiness in the world and those who say otherwise are not human. No matter how much he let on he doesn't care about The Dregs or Inej, his actions prove otherwise. Kaz calling Jesper by his brothers named showed how much Jesper meant to him. I loved the slow and steady development of friendship of The Dregs and how they went from a crew to friends looking out for each other.
"He scanned the faces of the people he had fought beside, bled with. He'd lied to them and been lied to. He'd brought them into hell and dragged them out again."
While I was midway through the book, I thought the plot was exaggerated but as I read on I realized it would've been too easy if the Dregs succeeded in their first attempt and I was even more intrigued to read further and watch their final plan set in. despite the length of the book, it didn't lose its pace.
The one thing I didn't enjoy reading was the part where Dunyasha was introduced. I found it absolutely unnecessary like Bardugo introduced her only for the sake of keeping all her characters occupied or busy.
I love authors who could develop a brilliant plot and deliver or present it effectively. I decided not to trust the hype but I'm glad I read it. I fear to get into a series but I'm going to read every single book by Bardugo. I recommend Six of Crows series to everyone who enjoys reading dark and witty characters with a breath-taking plot twist.
"Sometimes, the only way to get justice is to take it for yourself."
Let me know your thoughts in the comments below!